Strata Property & Corporate Body Painting Specialists in Melbourne at The Paint Crew
As we all know, painting is one of the most tedious as well as the most expensive projects that a body corporate would ever undertake. Essentially, most buildings are painted as part of their initial construction and it is then that the body corporate takes up the responsibility of maintaining the external paint scheme.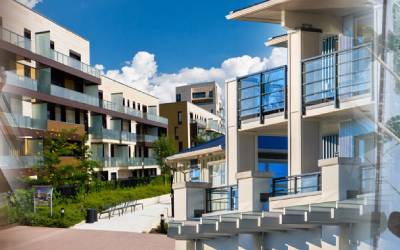 At The Paint Crew, we have experienced professionals who are specialists in their field and who work relentlessly in order to deliver top-quality as well as reliable service for strata and residential property managers. We pride ourselves on being able to maintain customer relations since the time we started emerging as one of the pioneers who provide strata property and corporate body painting in Melbourne.
Even if it is the whole row of townhouses that require a fresh coat of paint, The Paint Crew has both the technology as well as expertise to address all your painting needs. Furthermore, we also have experts who perform quality checks in order to deliver what we've promised and advertised. We also provide clients with a free quote.
Top Things to Know Before Painting Your Strata
For the ease of our customers, our experts at The Paint Crew have put together a few details to be considered before painting the strata scheme. First, one should obtain approval from the strata committee and owners' corporation in order to even consider painting strata. However, the decision to get cosmetic painting work such as retouching individual lots is solely up to the discretion of the owner.
Second, one must identify the organiser of these jobs. Typically, it is up to the owner's corporation. However, over recent years, the ownership has shifted to the strata committee or strata manager.
According to the experts at The Paint Crew, below are some of the pros of choosing to paint the strata scheme:
It gives your building a much-required fresh appearance.

It can be viewed as being a part of general maintenance and repair work

They could also be involved in building renovations as well as annual maintenance
They provide a layer of protection, membrane and waterproofing

A body corporate painting work can help in raising the real estate value and rental returns. It could also make it easier to find new rental tenants or even sell an apartment lot
Importance of Body Corporate Painting
It is true that painting is one of the most important things that determine the aesthetic quality of a building, however, it also fulfills many other purposes. These purposes include protecting and maintaining the substrate beneath it which may be concrete, brick, timber, metal etc. Often, choosing the right paint can do wonders, such as preventing rusting or concrete cancers, to a great extent. As a pioneer in body corporate painting in Melbourne, we at The Paint Crew understand the implications of natural factors such as rain, pollution, heat, bird and bat excrement, and other harsh conditions, on the exterior of a building. Typically, these elements can prove to be quite corrosive over time. It can lead to a point where the paint is bound to fade and lose its vibrancy. Sometimes, it can also cause the paint to peel off, which will in turn be the cause for degradation of the substrate beneath it. Bearing this in mind, it is important to consider how to achieve a long-lasting, healthy, paint on a building. Therefore, as mentioned earlier, it is extremely vital to choose the right paint without compromising on the quality.
Though it may seem expensive in the beginning, they last longer, thereby reducing the cost for regular maintenance. These paints are essentially resistant to stains and any stains could easily be washed down. A building washdown is an effective way of washing down built-up dirt and stains. Our experts at The Paint Crew, typically suggest clients to have a building washed down every 2- 3 years.
Sometimes a washdown can cause more harm than good if there is no proper attention provided. Therefore, it must be done in conjunction with body corporate repaint. Furthermore, the body corporate painting would greatly depend on the size, location, style, and the kind of substrate that is used in the building. At The Paint Crew, we pride ourselves in offering clients all the necessary steps to improve the longevity of the paint job.
Is Strata Painting the Same as Body Corporate Painting?
For one to understand this concept, it is vital to understand the difference between strata and body corporate. If a person wants to acquire either a residential or commercial property in an apartment building, or a townhouse that is situated on land shared by other properties, he or she will be purchasing a part of a strata title. This procedure is also known as acquiring property as part of a strata scheme.
Body Corporate, also known as Owners Corporation, refers to the group of people who collectively own the land where their townhouse or building is situated. Whereas strata title refers to the title that each owner acquires for owning the property that is shared with others. Therefore, strata painting and body corporate painting are essentially the same thing. It is just that usually for strata painting, one would require the approval of the body corporate. When one acquires a property as a strata title, they need to understand the importance of the body corporate and their associated rights, responsibilities etc.
Why Is The Paint Crew Best for Strata and Body Corporate Painting Across Melbourne?
At The Paint Crew, we understand the importance of managing the maintenance responsibilities of body corporates. Over the years, The Paint Crew has grown into one of the pioneers in the industry for strata and body corporate painting in Melbourne. With years of experience under our wings, we have forged reliable trade services with a plethora of connections that include owners, tenants, and investors who have varying priorities when it comes to body corporate painting. Given below are some of the reasons that has helped us become one of the pioneers in the field:
We deal with units as well as townhouse complexes

We welcome all scales of projects. Be it big or small, our experts provide utmost attention to every detail in the project.

20 million public liability

We are Dulux accredited and member of the MPA
We provide clients with a free fixed quote before the commencement of the project.

We adhere to strict quality controls especially, the paint specifications.

We provide our clients a 5-year workmanship warranty
We would be delighted to answer all your queries regarding strata and body corporate paint. For additional details and cost estimates, call us on 1300 803 896 or email us at info@thepaintcrew.com.au.