Epoxy Flooring Coating Service in Melbourne
Epoxy is the mixture of polymer resins and hardeners. It is one of the most hardened and long-lasting resins used in the coating of floors in homes, offices, garages and industrial units. It strengthens the floor, makes it long-lasting and offers durable, resistant and premium epoxy coatings solutions for every type of building.
The Paint Crew is the leading provider of residential and commercial epoxy flooring in Melbourne with highly skilled and experienced concrete epoxy coating experts who provide the best flooring solutions for properties in Melbourne.
What is Epoxy Flooring?
On the concrete flooring of a kitchen, garage, or office, epoxy flooring coating creates a smooth, long-lasting, and amazing finish. This is the reason for the constantly rising popularity of epoxy floor coating in Melbourne. Get the best and most long-lasting floor for your home or office with our specialists.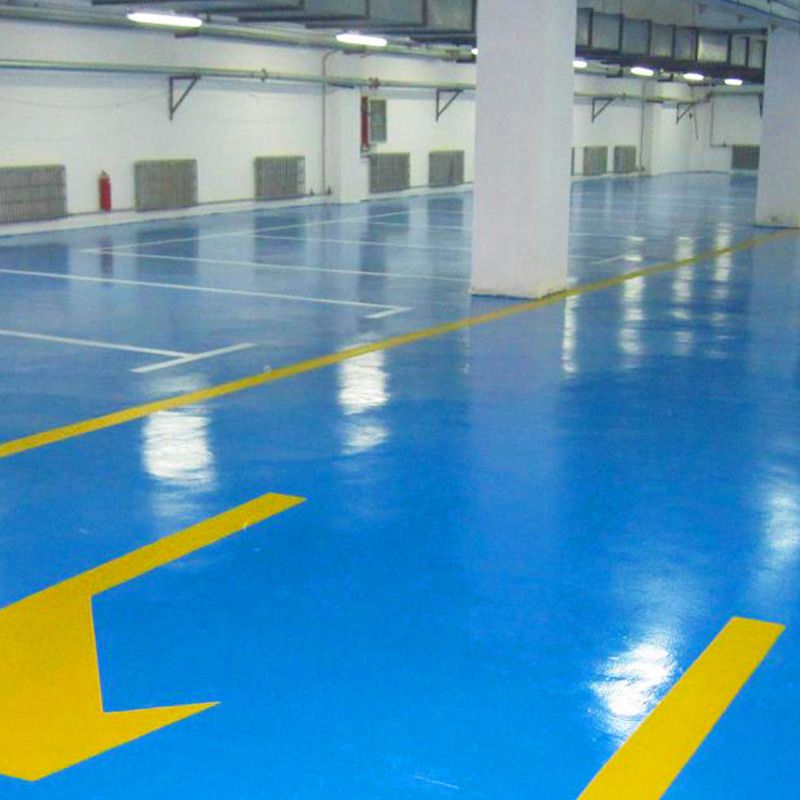 Type of Epoxy Coating We Offer
There are several types of epoxy coatings for concrete floors that you can choose from, based on your requirements. These are:
Clear epoxy: A clear epoxy is a transparent topcoat that is applied to the floor. The clear epoxy flooring coating is applied as an additional layer of protection on the floor to make it scratch-resistant, long-lasting and bring shine to it. This type of epoxy is commonly used in river tables, bars, tabletops, jewellery shops, garment stores etc.

Metallic epoxy: The metallic epoxy uses a metallic additive that is mixed with clear epoxy to achieve a unique metallic finish on the floor. In this type of epoxy coating, the metallic powder moves through the epoxy to create a unique design and finish. Because of this, every metallic epoxy flooring is unique in its look.

Solid epoxy: Amongst the most popular varieties of epoxy floor coating, the solid epoxy coating brings a unique quality to your floor. These are hard-wearing epoxy coating, which can be tined in all colours found in the Australian standards colour chart. This makes the range of epoxy floor colours immense.
These are used in a variety of places such as warehouses, manufacturing plants, hangers, garage floors, laboratories, service stations and medical facilities. The solid epoxy is favoured by builders and users as it is environmentally friendly, very easy to maintain and dustproof. It protects the substrate and increases its strength. It is also resistant to acid, chemicals and abrasion.
What Does Commercial and Residential Epoxy Include?
We provide the most comprehensive range of residential and commercial epoxy floor coating services in Melbourne. We offer end-to-end floor coating solutions to all your needs.
This is the simple process of Epoxy coating for both commercial and residential projects:
Understanding of the requirement

Discussion on project
Understanding of the requirement

Discussion on project
Testing of floor

Range of options
Selection and finalisation

Applying the coating
The process we follow for both commercial and residential projects is:
Cleaning the floor of debris, holes, and moisture

Removal of any loose coating
Vacuuming and wiping dust

Applying new coating
Testing the applied coating

Finishing the new coating with a power wash
3 Reasons to Choose Epoxy Coating
These are the top reasons why people in Melbourne choose floor epoxy coating for their homes and offices:
Smooth finish: The high gloss epoxy floor coating is known for its stunning finish. They are great to look at, with sheen lasting for years and require little maintenance and can be cleaned easily. Epoxy garage floor coating is considered quite useful as also the coating in the kitchen or industrial units that struggle with grime & grease. In offices or rooms of a home, this brings both beauty and style to residential and commercial spaces.

Abrasion & chemical resistance: The epoxy coating is abrasion resistant, which makes it useful in garages, parking lots, industries and other such challenging spaces. It is also chemical resistant which makes it a perfect flooring solution for laboratories and industries where chemicals are used.

Cost-effective: One of the most common queries people have is how much does epoxy flooring cost? Or is it comparable to other coating solutions? Epoxy coating is among the cheapest resin flooring varieties that make it an attractive option for commercial, residential properties owners, builders and architects alike.
Wondering how expensive epoxy flooring is compared to tiles? While it is slightly more expensive than tiles, epoxy coating more than makes up for the extra cost by its amazing finish and its durability to last several years.
Is Epoxy Coating Waterproof?
One of the reasons for the enduring popularity of epoxy coating is that it is waterproof. That makes the nonslip epoxy coating for concrete an ideal floor coating for bathrooms, kitchens, swimming pools, garages, service stations, offices and industries alike. For the epoxy coated floor to be waterproof, you need an expert team to apply it on the floor.
Experienced workers seal every single inch of the floor to ensure that the water cannot seep through. As this is a delicate and expert task, you should only hire an expert with sufficient experience for it.
Why choose The Paint Crew for Epoxy Flooring Coating in Melbourne?
We are among the top epoxy coating specialists in the city. We set the golden benchmark with the workmanship that others aspire to achieve. Looking for the best and most affordable epoxy floor coating in Melbourne? Give us a call to discuss your requirements and our team will provide you with a range of options and a no-obligation quote. Our team brings all its equipment like ladders, booms, scaffoldings, hoists, etc. and obtains all the necessary approvals, permits and follows the regulations.
Here's why we are Melbourne's best epoxy coating service provider:
Wide range of options

Experienced workforce
Timeline adherence

Fair & honest pricing
High-quality work

Quality raw materials
Latest tools & techniques