Complete House Painting With Interior and Exterior Service in Melbourne
With years of experience under its wings, The Paint Crew has become one of the industry leaders when it comes to house painting services in Melbourne. We are especially popular for providing clients with affordable as well as reliable painting jobs done by qualified painters. Our painting services span over residential, commercial, internal and external painting services. We are notorious for undertaking projects and delivering them on time with some amazing finishes all the while adhering to strict budget constraints.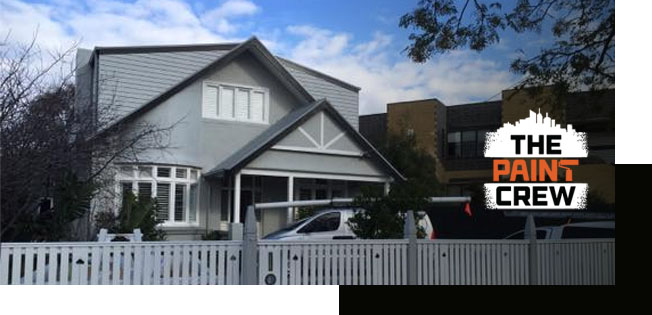 At The Paint Crew, we pride ourselves on providing clients with both interior as well as exterior painting solutions. We have a team of experts who conduct periodic quality controls, and ensure that only the best quality paint is used to carry out the job. Additionally, we ensure that all our painters are covered by the public liability insurance and are qualified to work at heights. We are in fact a one stop destination for all your painting needs be it to simply restore existing paintwork or to completely implement a brand-new colour scheme.
It is a known fact that The Paint Crew carefully undertakes a few extra steps when it comes to house interior painting. This is typically done in order to ensure the best possible finish. Our team of experts are renowned for carrying out some of the most meticulous preparation of walls, skirts, architraves, ceilings, and doors in order to ensure the finish is defect free and also crack free. Additionally, we also apply plastic protection sheets that are hung to protect parts of the home by ensuring that no dust or paint would be able to damage the paint job.
Our external painting services cover a multitude of painting jobs such as painting roofs, claddings, doors, pergolas, windows, and weatherboards. In fact, our experts believe that choosing the right paint and following the correct preparation of the surface will not only ensure that you obtain optimal vibrancy but also ensure that it will last for many years to come. Therefore, we only use paints that are industry rated and are proven to withstand Australia's UV level. The paint should also be able to handle the preparation of the exterior which includes render, weatherboard replacement and sanding.
Interior Painting vs. Exterior Painting
As we all know, all paints are made of essentially the same basic ingredients, which are resin, solvent, pigments, and additives. Typically, solvents are either water for latex paint and mineral spirits for oil paint. However, in both cases, the solvent always evaporates as the paint dries and leaves behind the resin, pigment, and additives. Both interior paints as well as exterior paints are available in varying finishes, ranging from gloss to matte. Essentially, the real difference between them is from the resins and additives.
It is important to understand the role of the different components of paint in order to understand the real difference between exterior and interior painting. The colour is provided by the pigments in the paint and is bound to the surface by means of resin. These resins could be made of acrylic, epoxy, or silicon. Furthermore, additives are what gives paint different properties, such as resisting the growth of mildew, making it easier to apply, or even making it easier to clean. However, it is important to note that in both types, the solvents and pigments share similarities. Both oil-based and water-based paints are used for exterior paintings. However, oil-based paints are never used for interior painting as they possess a characteristic smell and are difficult to clean.
Though exterior and interior paints can be used interchangeably, it is best advised not to. The added resins in exterior paint can cause outgassing. This may last up to 48 hours, and would usually continue in small amounts for years. That's why exterior paint must not be used indoors.
At The Paint Crew, we often advise our clients to choose a flat sheen exterior paint for masonry and stucco. This will not only allow the surfaces to breathe, but also let the moisture to breathe through the paint in order for it to escape. Exterior paints must be used especially on brick walls as they are expected to carry out moisture transfer.
Interior paints are delicate in comparison to exterior paints. They do not outgas, making them safer indoors. However, it is still vital to ensure that there is adequate ventilation while painting indoors. For indoor walls, one needs to have additives that would later cause the surfaces to be scratch resistant and is easier to clean, all the while having a glossy finish.
What Does Our Exterior and Interior Painting Service Include?
The Paint Crew is the one stop destination for all painting jobs in Melbourne. We pride ourselves for having some of the most experienced house painters in Melbourne who have proven expertise in handling any kind of house painting jobs, be it exterior or interior. Our experts ensure that they provide all the care and attention to details when it comes to painting the various interior spaces of a home such as windows, doors, ceilings and walls.
They can get surfaces ready for painting with our interior painting preparation service. This can include sanding the surface, repairing the plaster and even applying masking tape. The experts at The Paint Crew have formulated a comprehensive process that ensures that the job is done impeccably. Furthermore, the exterior painting service we offer in Melbourne emphasises on the importance of protecting items and preparing surfaces for optimal results. In fact, we use drop sheets to cover up the vulnerable areas located within close quarters of the planned painting activities. We also have an extensive preparatory system for exterior painting which includes sanding surfaces, removing flaking paint, filling cracks and holes, sanding weatherboards, priming and more.
Tips to Hire Painters for Interior and Exterior Painting Jobs
It is a common practice for homeowners to hire a painting service to get the exteriors and interiors of their home painted professionally. Given below are some tips one must follow before hiring a painting service.
Do the necessary research in order to find the best painting service providers around you. It is important to shortlist at least three in order to obtain a fair estimation on what one can expect and whose service best suits your home. It is also important to enquire about the size and experience of the painting crew.

It is important to communicate your expectations. The service provider must know the level of imperfections that are acceptable to you and that which are not.

Get estimates from each contractor. These estimates must include a complete breakdown of labour, material costs, the number of coats of primer and paint, the brand and finish of paints, different equipment and materials used, with a detailed description of the amount of surface preparation that is required.

Obtain a list of references from each contractor and call them to find about their personal experience with the team. Also observe recent projects in order to check the skill of their current crews.

Consider credentials such as membership in a trade or local business group. Also verify the necessary documents such as licences or permits.

The painting contract must include all the key information of the service provider, like name, address, office and cell numbers, licence number, etc.

It is also important to obtain a copy of the painter's liability and workers' compensation insurance certificates.

Ask for a guarantee.

One must choose the paint themselves, pertaining to their desired finish.

If the home was built before 1978, it is likely that older coats of paint may contain lead. Therefore, in such cases the painter might need to take extra precautions to avoid any hazards.
Why Choose Us for Interior and Exterior Painting Service Across Melbourne?
The Paint Crew is a painting company dedicated to offering exceptional interior and exterior painting services. We strive to provide our clients with the best results as far as painting goes. In order to achieve this, we have put together a diverse team of professional painters who can handle any task efficiently and effectively. They are fully trained, skilled and hold the required qualifications and are an expert in their field. No job is ever big or small enough for them to handle.
This means that whether your home needs interior painting or exterior painting, we will be able to take care of it quickly and easily for you! We use top-quality paints and paint products, including the right one for interior and exterior surfaces of the property. We also follow all the steps to ensure that your property is not damaged during the paint work.
Do you have more questions about our services? Our team would be delighted to answer all your queries regarding exterior and interior house paintings. Reach us on 1300 803 896 or email us at info@thepaintcrew.com.au.