Floor Painting Service in Melbourne by The Paint Crew
Floor painting brings shine to the floor of your home or office along with an amazing gloss finish and stunning looks. It also helps the floor withstand scuffs and wear & tear caused by footfalls, movement and vehicle movements. Most Melbourne residents prefer floor painting in their homes and offices as it makes the floor resistant to chemicals, grease, and grime and matches with the décor.
Epoxy floor painting is amongst the best painting options and brings out the beauty of the floor. It creates a high-gloss surface and increased brightness in the rooms and spaces, where it is used. The Paint Crew is the leading floor painting service provider in Melbourne with the best and widest range of floor paint designs for your home and office.
We Paint All Types of Floors
We paint every type of floor, no matter whether it's in your home or commercial space, as per your requirement. Our best-in-class floor painting service includes black wooden floor painting, garage floor painting, industrial floor painting and timber floor painting. Our comprehensive floor painting includes the 3-step process of cleaning, buffing, and sealing. This ensures that you get high-quality and durable floor paint at your property.
We paint all types of floors, including but not limited to:
Wooden floors

Concrete & stone floors
Cork and Parquetry

Floating floors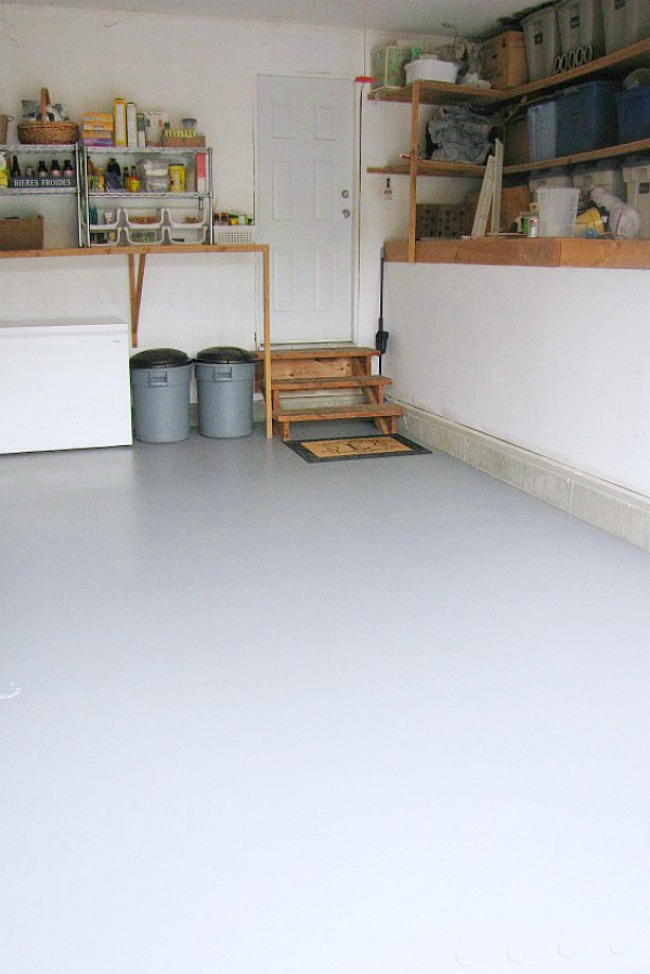 Difference between Epoxy Coating and Epoxy Paint
Like many people, you may also get confused between epoxy paint and epoxy coating. They both are as different as chalk & cheese. Let us make it clearer. Epoxy paint is simply a paint that is applied to the floor of your home or office. While an epoxy coating is applied to the floor that makes it tough and long-lasting. The key differences between the epoxy coating and epoxy paint are:
Application: The epoxy paint is primarily applied in homes and offices. It is a ready-to-use paint that can be applied by both professionals and homeowners as a DIY project. However, an epoxy coating can only be applied by skilled and experienced professionals as it requires the mixing of epoxy resin and polyamine hardener.

Durability: Both epoxy paint and epoxy coating give stunning results. However, the epoxy coating is more durable and long-lasting in comparison to the epoxy floor paint. Epoxy paint is far superior to latex paint and is best suited for homeowners who are looking for an amazing finish and looks for their rooms and kitchen.

Epoxy coating is a better option if you are looking for both durability and a great finish. The hardened coating on the floor is ideal for kitchens, rooms, garages, industrial units or places of heavy activity. It is resistant to grime, grease and oil and is long-lasting.

Price: The floor paint cost depends on a lot of factors. Epoxy paint is cheaper than epoxy coating. However, it is susceptible to wear and tear and may require to be redone from time to time. This may make it somewhat expensive in the long run. The epoxy coating is expensive and there is also the expense of hiring professional painters to apply an epoxy coating. But as it is durable and long-lasting, despite the price of epoxy coating and epoxy floor paint being higher, it is a cost-effective solution in the long run.
Every project need and property requirement is different. It is always helpful to get an expert opinion before deciding on the kind of floor painting or epoxy floor coating that you require. We offer free surveys, advice, and quote on all kinds of floor painting and floor coating jobs in Melbourne. Call our floor painting experts to discuss your project today.
Which Colour Is the Best for Floor Painting?
The choice of floorboard colours at your property depends on your choice and preference. A lot of factors such as usage, décor and type of flooring also influences the choice of colour. Here are a few things you should keep in mind while choosing the ideal colour from our floor paint colour chart:
Select decorative paints with marble, granite or mosaic tile finish.

Concrete floors look best in shades of chocolate, black, grey, grapevine and dark purple.
To match with décor select shades of red, olive green, beige.

For basement floors, use lighter shades.

Choose skid-resistant colours instead of glossy paints.
Confused? Check with our floor painting experts for the best colours suited for your home or office.
Is Floor Painting Waterproof?
Epoxy paint and coating is waterproof and is ideal for kitchen, swimming pool, garages, schools, hospitals etc. Unlike regular floor paint, the epoxy-based paint or coating uses resins, compounds and adhesive that seal the floor and is resistant to water, chemicals, grease and grime. Using waterproof floor painting helps to protect your property against water damage and spills. It also makes it easy to clean and maintain. The resins present in the paint or coating create a waterproof shield that protects surfaces as diverse as stone, concrete, metal and cement.
As epoxy floor painting or coating is a specialised task, always hire experienced professionals for the job.
Why Choose The Paint Crew for Floor Painting in Melbourne?
We are the premium floor painting service provider in Melbourne. Our painters come with several years of experience and are known for their amazing workmanship that turns even ordinary jobs into a work of art. They try to better their work constantly and take pride in their work. Our team always tries to outdo the expectation of our clients and deliver beyond their expectations. Our repeat customers and constant word of mouth publicity is a testament to the great work our painters do, every time.
We offer:
Wide range of services

Experienced and skilled painters
Extensive colour range

All types of floors covered
Fully equipped

Timely completion
Fair pricing

Transparent billing
Need more information? You can contact us by mail at info@thepaintcrew.com.au or call us on 1300 803 896 to discuss your floor painting requirement in Melbourne and get a range of options to choose from. Best in class services and amazing finish guaranteed. Call now!