Get your house weatherboard coloured with our professional painting and restoration service in Melbourne
Weatherboards have been an integral part of Australian architecture. Many people wonder, "what is a weatherboard?". Apart from just being a signature style statement, they help protect a building from unpredictable weather and other natural phenomena such as sea spray. Over the recent years, they have gained popularity in modern coastal and Australian Hamptons style homes. Weatherboards are popular among places with an abundance of timber.
Weatherboards are often attached horizontally to the structure, with the board above overlapping the one below, thus creating an attractive shadow line. Builders prefer weatherboards made from fibre cement instead of the one made from natural timber as they can withstand bends and warps prior to installation.  Moreover, fibre cement weatherboards are relatively easy to cut and require less frequent painting. Since it is resistant to fire, termites, rot, and damage from moisture, it would be suitable for use in bushfire zone construction as well as with fire and acoustic wall systems. Weatherboards are 16 mm thick in order to create deep, sharp shadow lines and come in different styles with smooth, wood grain and rough sawn textures. With an array of experienced professional weatherboard painters, The Paint Crew in Melbourne aids in your home's exterior transformation.
What do painting weatherboards include?
Though known for their innate beauty and rustic charm, when it comes to maintenance weatherboard houses can be a challenge. Some of the common issues are chipping, rotting, and fading of paint. Melbourne's harsh climate can also affect the timber in adverse ways. The Paint Crew offers some of the best exterior paint for weatherboards as well as repair and replacement of worn/damaged timber. For each painting project, our team will be painting weatherboards that can last you up to 10 years. Colored weatherboard houses near seaside locations, we provide paints that can withstand seawater exposure. Here our process for weatherboard painting: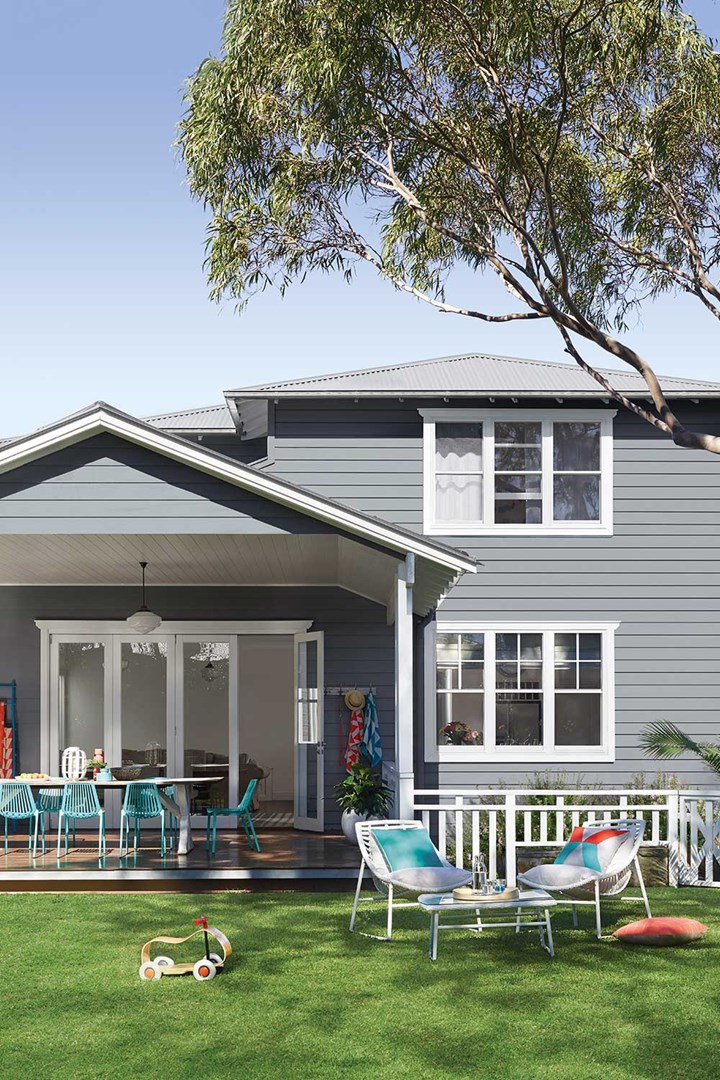 1. We measure the precise quality of paint on the surface of the weatherboard. A sharp blade is used to cut an X to the existing surface and is covered with tape. The tape is then yanked off. If the paint comes away completely as it is ripped off, then it is considered to be unsound and needs to be removed completely.
2. It is likely that older homes may have a lead-based paint treatment which is more removed by our team in a safe manner.
3. To clean weatherboards, we use a high-pressure hose to remove flaking paint.
4. Our painters begin painting top to bottom for the best results. We first paint the underside of the boards before the outer surface. Using long strokes in horizontal, side-to-side motions ensures an even paint coating. As overlapping paint can be difficult to correct, it's best to trust the experts with such a task.
Signs that your Weatherboards need to be Repainted or Replaced
Weatherboards require proper maintenance. We have listed some unmistakable signs that may indicate it's time for repainting the weatherboards of your home:
0.1 Peeling/Chipping paint: This is one of the most obvious signs that tell it's time to have your timber weatherboards repainted. This is because the old paint will only continue to chip which can get worse overtime as it is exposed to different weather conditions.
0.2 Fading Colour: Due to the continuous exposure to the harsh rays of sun, it is likely that the exterior of a home is adversely affected. This is because these rays can cause the paint to fade, making it look patchy.  Our painters have extensive experience to smoothen the patches and even out the colour. This can create a subtle statement by freshening up the look of your home.
0.3 Signs of Timber Rot: Another major sign of getting weatherboards repainted is timber rot. In this case, the weatherboard would require immediate replacement. At The Paint Crew, our painters experts can replace or fix the damaged timber. After this, a fresh coat of paint is applied as it helps protect the weatherboard from further decay.
How much does it cost to paint a Weatherboard?
There can be several maintenance charges due to several styles of weatherboard homes that people want. These charges may vary, depending on the weatherboard home itself as each may require different hours of preparation. Most homeowners choose to leave the weatherboard untouched without maintenance for a long time. This practice in fact can immensely rake up the price of the painting, depending on the extent of timber damage. We have encountered instances where weatherboards would need timber repairs or replacements from carpenters. To get a rough estimate on the cost of painting weatherboards, here are some questions to consider:
How much and how many extra hours of preparation are required for weatherboards?

Whether it's a single-storied or double storied structure?

Determine the access. Whether it requires scaffolding or harness access?

Does it require timber replacements or repairs?

How many colours will be used on the weatherboard?

Do you have any front fence, carport, veranda, or pergola?
However, the starting price for repainting a single-storey weatherboard home could be from $15,000. Meanwhile, the repainting cost for a two-storey weatherboard home could be around $20,000.
Why choose The Paint Crew for Weatherboard house colour in Melbourne?
With years of experience, The Paint Crew is one of the leading experts in weatherboard painting. Painting is the one of the cheapest ways to upgrade your home. There are several exterior colour schemes for weatherboard houses that you could choose from.  A coat of high-quality paint on weatherboards would not only add to your house's exterior but also protect the timber from damages caused over time due to harsh weather. Here are some reasons to choose our qualified painters for weatherboard painting:
Expert painters in Melbourne

Meticulous work process with attention to detail (with our hang-able plastic sheets, there is reduced mess)

State-of-the-art equipment such as sanders (vacuum operated devices to minimise dust)

Application of high-quality paint and the appropriate number of paint coats to ensure a smooth surface
We have some of the best exterior paints for weatherboards which are industry tested and available in varying ranges of colours and finishes. The Paint Crew always ensures that you get results that meet your needs. Call our team of painters on 1300 803 896 or email us at info@thepaintcrew.com.au for exploring more weatherboard color ideas! Beside weatherboard colors service, we also offer plastering jobs at a competitive rate