Local Plastering Jobs in Melbourne –
Wall and Ceiling Repair Service
Certain unexpected incidents can cause serious damages to the drywall or plaster. If damages are fixed on time, it is possible to avoid further damage. At The Paint Crew, we have specialist plasterers with extensive experience in drywall and plaster ceiling repair. Our team has state-of-the-art equipment and training to get the job done with precision.
Plaster is a durable building material that can last for decades. However, it also requires maintenance services from time to time. The Paint Crew can help with easy plaster repair to keep its aesthetic quality and longevity of walls and ceilings. If your plastering is in good shape, it maintains the house's integrity. Plaster wall repair needs to be done by professional plasterers for good results.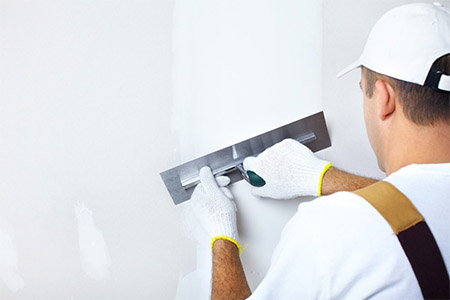 Our Plastering Service Includes:
We have a dedicated team of local plasterers in Melbourne working relentlessly to deliver affordable interior plaster repair services for both domestic and commercial sectors. Being fully insured, we are licensed to carry out all types of plaster repair services. Here are some plaster repair services we offer in Melbourne:
With a communicative staff, our team provides high-quality results and transparent work processes in all our plastering jobs.
Restoring damaged walls and ceilings

Repairing cracks and holes

Mould removal

Restoring sagged ceilings

Fixing the peeling and cracking paint

Restoring water damaged walls and ceilings

Fixing a patch and painting over

Cornices installation and repair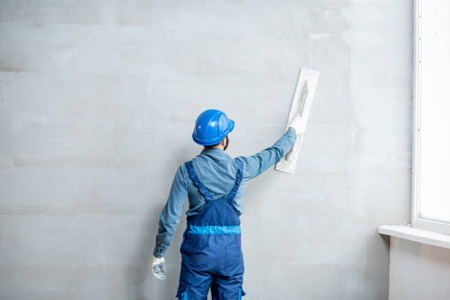 Type of Plastering Service, we offer
lastering is among the most important steps in both home and commercial repairs and renovations. The Paint Crew is among the leading plaster ceiling repair service providers in Melbourne. We offer clients a comprehensive range of plastering services that include commercial plastering, industrial plastering and domestic plastering.
If you prefer a long-lasting, unique plaster finish, it is recommended to choose a commercial plastering. We have taken up several domestic plastering projects involving extensions and renovations. Our team of qualified plasterers also offer services such as suspended ceilings, plastered wall systems, plasterboard repair for ceiling systems, villa board wall systems, window reveals, partition walls, bulkheads, square set, suspended tile grid ceilings, fire rated systems, P50 shadow line and more. We also provide expert industrial plastering service.
Advantages of plaster
In the recent past, plaster was the most common and popular form of interior wall finish. However, it has seen a slight change in popularity with the increased use of pressed gypsum boards known as drywall. Plaster can be used to decorate and design one's homes in a variety of styles, ranging from Victorian to French designs. Here are some advantages that come with the use of plaster:
Why choose our expert plaster for plastering jobs in Melbourne?
Being a leading provider of plastering and repair services in Melbourne, The Paint Crew takes care of the aesthetic appeal as well as strength and durability of plaster made from quality materials. Here are some reasons to choose our expert plasterers for plaster jobs:
Expert assistance: Since plaster becomes brittle over time, it is important to be careful while going for wall repairs or ceiling repairs. Our team can assess the plaster to understand the extent of damage it has undergone. They can also determine the type of repair service your home requires to restore it to a pristine condition
Quality service: With years of experience in the field, our plasterers can help in plastering walls that are not restricted to surface-level repairs. We consider the entire composition of the plaster before suggesting any repairs.  Precision is our priority for ensuring satisfactory results.
Effective techniques: We have a well-tested plaster repair process, using state-of-the-art technology to strengthen and reinforce the plaster. We suggest securing surrounding materials with fasteners to support the repair and maintain the wall's integrity behind the high quality plaster.
Our comprehensive process for plaster repair was built over years of experience in the field. We understand that small holes and cracks can add up to larger repairs for homeowners which can be costly. That is why at The Paint Crew, you can hire a plasterer for efficient plastering jobs in Melbourne. Call our friendly team on 1300 803 896 or drop us an email at info@thepaintcrew.com.au for your free quote today. Beside Plastering Jobs , we also offers Floor Painting Service at an affordable rate