Waterproofing Specialist Contractor In Melbourne
Waterproof your property in Melbourne to prevent water damage and water leakage. As an informed property owner, you must waterproof your home, office or building to avoid property damage, expensive repairs, and health risks to people living there. Looking for the best and most affordable waterproofing services in Melbourne for your property?
The Paint Crew is amongst the leading waterproofing contractors in Melbourne with tailor-made waterproofing solutions for every type of property in the city. Our waterproofing experts come with several years of experience and training and offer innovative solutions as per waterproofing regulations in Victoria and Australian standards for waterproofing.
There are several places or areas in your home that are susceptible to water leakage and water seepage, such as bathrooms, balconies, roofs, retaining walls. Every such area requires different types of waterproofing membrane sheets and techniques for waterproofing. For eg. balcony waterproofing without removing tiles is a specialised work that can only be done by experts who are properly trained and are experienced in this type of waterproofing job in Melbourne.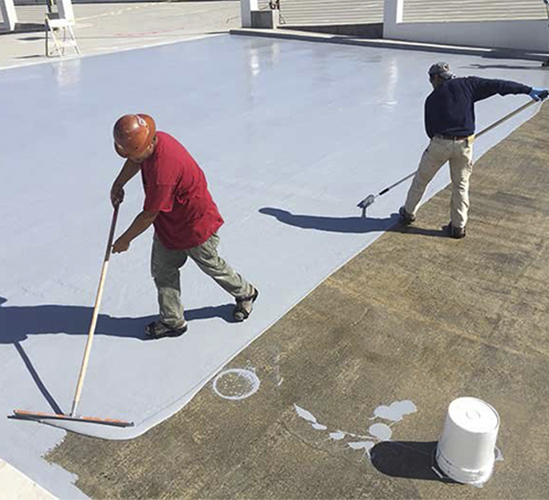 Likewise, different types of waterproofing membrane can be used for the roof, outer wall or basement waterproofing section. To provide the best services to our clients, we follow the industry waterproofing standards and employ the best solutions to secure the properties against any damage caused by water. For this, we use high-quality waterproofing materials for walls and a range of waterproofing sprays.
Our waterproofing services include:
Bathroom waterproofing

Swimming pool waterproofing

Planter boxes waterproofing
Balcony waterproofing

Rooftop waterproofing

Retaining walls waterproofing
Lift shafts waterproofing

Rooftop gardens waterproofing

Green rooftops waterproofing
Basement waterproofing

Foundation waterproofing

Terrace waterproofing
…and many more.
Our highly trained and certified experts offer the best waterproofing service for every kind of residential and commercial property in Melbourne with guaranteed results. Whether it is an existing building or a new structure, we provide waterproofing solutions for every property.
Choose Us to Get Services That Match the Australian Standards for Waterproofing
Australia has one of the toughest and most comprehensive waterproofing standards that are designed to protect the buildings and their inhabitants. They need to be adhered to and complied with in full to obtain the required approval and certificate.
These are the various waterproofing Australian standards that we adhere to:
Waterproofing of domestic wet areas (AS 3740-2010)

Wet area membranes (AS/NZS 4858-2004)

Waterproofing membranes for external above-ground use – Materials (AS 4654.1-2012)

Waterproofing membranes for external above-ground use – Design and installation (AS 4654.2-2012)

Below ground waterproofing – no prescribed standard
As a licensed and certified waterproofing service provider, we follow all rules and regulations of the Australian standards for waterproofing service to ensure that the waterproofing at your property in Melbourne is done as per the recommended guidelines. While providing high-grade services to you, we also ensure that the waterproofing cost is kept at a fair and affordable price for you.
3 Reasons Waterproofing is Important
Waterproofing helps to protect your property against damage caused by seeping water. This helps to prevent weakening of the roof, structure and walls and in avoiding costly repairs. Here are the 3 important reasons you should hire waterproofing specialists to do complete waterproofing for your property:
Prevent water damage: It is a myth that you need waterproofing only for properties near a water body or areas of heavy rainfall. Just like fire safety measures, waterproofing is also an important requirement for every property. Water seepage can cause long-term damage to your property. The damage is slow but often irreversible.

Save health risks: Any building or property that is not waterproofed can become the breeding ground for bacteria like fungi, moulds etc. which cause severe allergies and affect the health of people. Stagnant water also becomes a breeding ground for various mosquitos that spread diseases. Don't expose your family to such health risks and get your property waterproofed today.

Water leakage avoidance: Rain and storm lash against your property and expose it to severe weather elements. If your property is not properly waterproofed by experts, it becomes vulnerable to water leakage. This unchecked and unprevented water exposure of the roof and walls can cause them to develop cracks that cause permanent damage. Seepage also makes the foundation of the building weak. Water puddles in your balcony, front yard, or around your house cause a risk of slipping and injury.
Benefits of Waterproofing
There are several benefits of waterproofing that has made this activity important for new building construction and in existing buildings.
The durability of structure: Any kind of moisture is the bane of the building and affects its strength. It seeps through the walls and rusts the iron used in the walls, concrete pillars or roof that can develop cracks and affect the durability of the building. You need roof waterproofing to prevent this eventuality.

Reduction in repairs costs: One of the biggest benefits of getting waterproofing done for your property is that you save on huge repair costs later.

Energy efficiency: An additional benefit of waterproofing of the building is that it works as insulation and reduces the energy bill that spikes when you have to heat or cool the building with air-conditioners in Melbourne's extreme temperatures. It is UV resistant and can decrease the temperature by up to 8 degrees.

Saves furniture & interior work: Water seepage is one of the biggest enemies of furniture, interior wallpapers and paint and décor. With waterproofing, you save your precious furniture, electric appliances and interiors from moisture and water seepage.
There are several waterproofing companies in Melbourne which provide waterproofing services for residential and commercial properties. However, you should select a company that provides a full range of services with guaranteed results. As the effects of this work manifest themselves over several months and years, you must hire a capable waterproofing installation service provider that can implement long-lasting solutions to waterproof your property.
Why Choose The Paint Crew For Waterproofing Service in Melbourne?
The Paint Crew is the leading service provider of all kinds of waterproofing services in Melbourne. The high-grade work and the master workmanship of our waterproofing specialists have made us the first choice of property owners, builders, architects and building contractors in Melbourne. We design and implement long-lasting waterproofing solutions for all properties.
With us you get:
Comprehensive waterproofing service

Skilled & experienced team

Adherence to Australian standards for waterproofing service
Qualified, trained and certified professionals

Excellent workmanship

Timeline adherence
No overpromising

Fair pricing

Honest billing
No overcharging

Quality finish

Guaranteed work
Need more information? Contact us by mail at info@thepaintcrew.com.au. You can also call us on 1300 803 896 to discuss your project and to request a site visit by our team and get a no-obligation quote. Call now!